Display advertising

lead to better brand awareness

We understand the frustration that can come with the "black box" approach to display media


Display Advertising
We Can Help You Implement A Display Ad Strategy That Will Produce Results.
Today more than ever consumers are using the internet to discover local businesses and services.
We can ensure your brand is represented consistently to the targeted customers and prospects that your business needs with our Display Advertising program.
Achieve more brand awareness and grow your business without wasting time or needing to be a technology expert yourself.
35% OF PEOPLE WHO HAVE SEEN A DISPLAY AD WILL LATER SEARCH FOR THE BUSINESS - GOOGLE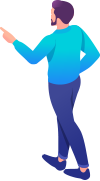 Have a project?
Get A Quote Now
Subscribe Here!
We respond to our clients FAST!
Thousands of Markit Brands have made the swich.Text marketing with the customer in mind!
Some of our clients